Find Out What Makes The Hitachi Magic Wand Massager So Great
Ever heard about the Hitachi Magic Wand and why it's a fantastic massager and an even better vibrator? We will discuss everything you need to know about the Magic Wand starting with the history of the massager, the different uses of the Magic Wand, different available versions, popular accessories and much more. As an authorized retailer, we hope this article will help you obtain the valuable information you need to make an educated decision for one of these fantastic massagers.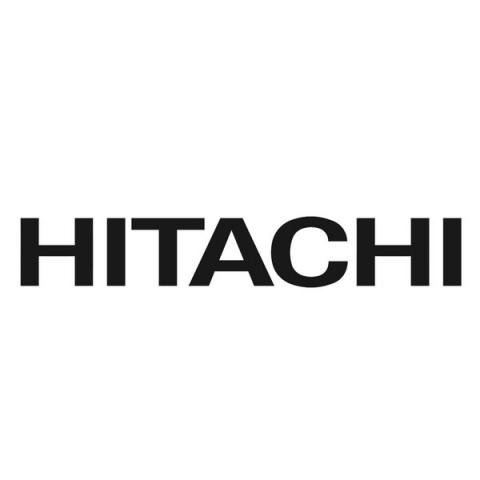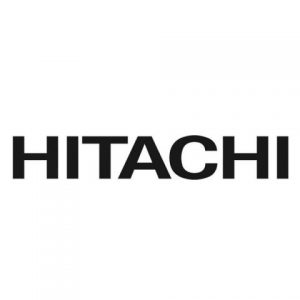 History Of Hitachi, LTD.
Hitachi is a Japanese multinational conglomerate which was founded in 1910 by Namihei Odaira and currently lead by Toshiaki Higashihara as of this copy in 2017.  As a traditional Japanese company who produces everything from electronics and data systems to defense systems, Hitachi happened to make a device called the Hitachi Magic wand. Hitachi introduced this item in the United States in 1968 for it's sole purpose of being a device intended to relieve sore muscles and tension. The intention was always to be a health care device and never anything more than that.  This was until vastly popular sex educator, Betty Dodson explained the many benefits of using the Hitachi Magic Wand as a masturbation aid for women. Shortly after the introduction of the Hitachi Magic Wand and how it's true "dual purpose" capabilities would be a hit with many consumers, people all over starting buzzing during private time.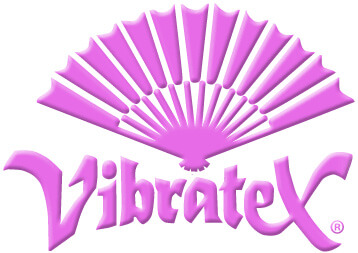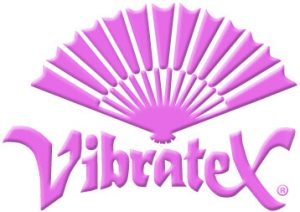 Vibratex, Inc.
Hitachi, LTD decided to stop production of this best selling device in 2013 and wanted to move in a different business direction which is why the rights of the Hitachi Magic Wand were sold to Vibratex, Inc.  Vibratex, a California based Sex Toy manufacturer and distributor, took on this  acquisition by convincing Hitachi NOT to decommission this device but instead continue making it under a different name.  The new name of the Hitachi Magic Wand was born and it was now called the Magic Wand Original.
How did the Magic Wand Massager get so popular?
After being introduced in the market as a dual purpose massager, the Magic Wand got notoriety from a number of different publications which includes but is not limited to Cosmopolitan, Engadget and Time Magazine. The Hitachi Magic Wand was also shown on TV within the Sex in the City series, Louis CK show and other notable areas of entertainment.  Bottom line, the word was out that the must have vibrator was the official Magic Wand.  After all, it wasn't called the Cadillac or Rolls Royce of Vibrators for no reason!
So what exactly is a dual purpose massager?
Some may get confused by the term "dual purpose" since the main purpose of a handheld massaging device is to alleviate minor aches and pains with the use of vibrations throughout the entire body.  This means feet, calves, thighs, lower back, upper back, arms and neck areas are the main focus points.  However, the Hitachi Magic Wand is an excellent massager but an even better masturbation device!  This is why the Magic Wand is labeled as the perfect multi use, dual purpose device every household should have.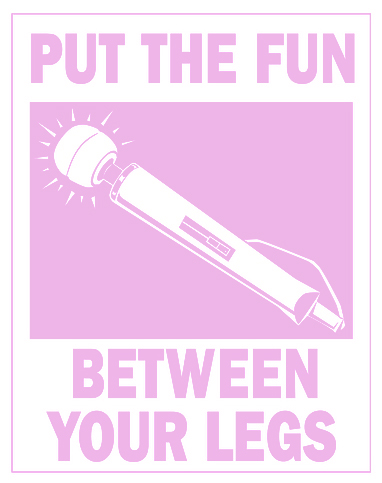 Do more men or women use the Magic Wand?
For almost 40 years now, the Magic Wand has been used by men and women all over the world due to it's unique design and powerful strength. Used more by women due to its popularity of being a clitoral stimulating vibrator, the Magic Wand is and has become the "go to" vibrator for all women who masturbate with a toy.  Many men also state that ejaculation is achieved very quickly with the Magic Wand compared to conventional masturbation without a sex toy.
Magic Wand Versions
Okay so by now, you should have a pretty good idea of what the Magic Wand is and what it could do for you.  Now it's time to discuss some options!  The Magic Wand is currently produced in two versions.  There is a corded Magic Wand Original, model HV260 and the Cordless Magic Wand Rechargeable, model HV270.  Let us discuss the differences between these models to help you decide which one is more appropriate for you: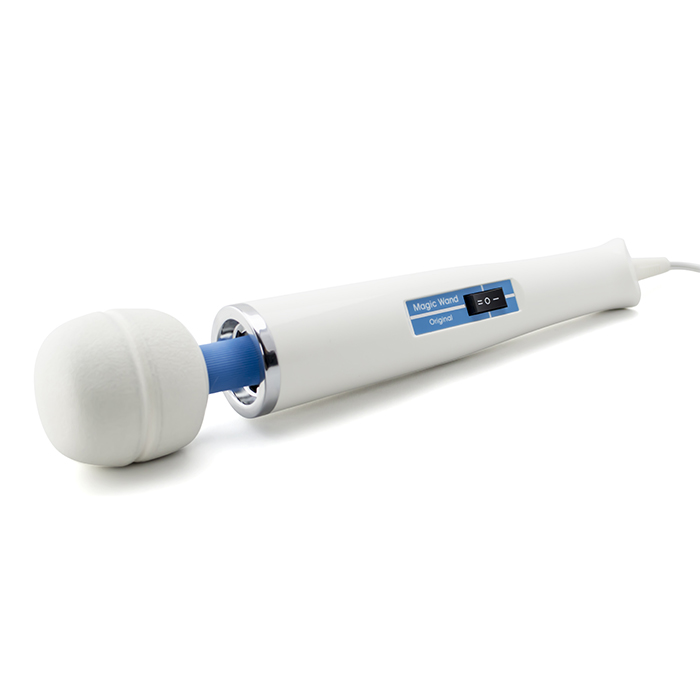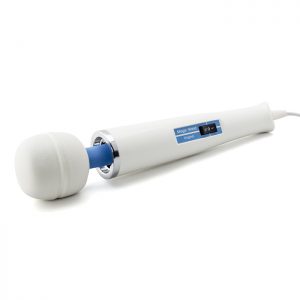 Magic Wand Original HV260
Power source: 110 – 120 volts electrical outlet
Two speeds: ca. 6,000 / 5,000 vibrations per minute (on high / low setting)
Weight: 1.2 lbs.
Dimensions: approx. 12" (length), 2 1/4" (head diameter)
Cord length: 6 foot
10W (no load)
Plug type: US polarized
ETL listed (proof of product compliance with North American safety standards)
Registered with the FDA as a medical device
Backed by a one-year warranty
The Magic Wand Original is the closest to the original iconic Hitachi Magic Wand.  The look, weight and feel of the Magic Wand Original is very much the same consistent device consumers have been used to for 40 years.  Made to look visually the same as the HV250R with it's classic white & blue design, the HV260 is the lowest priced massager which is both powerful and affordable thanks to it's high quality Japanese styling and design.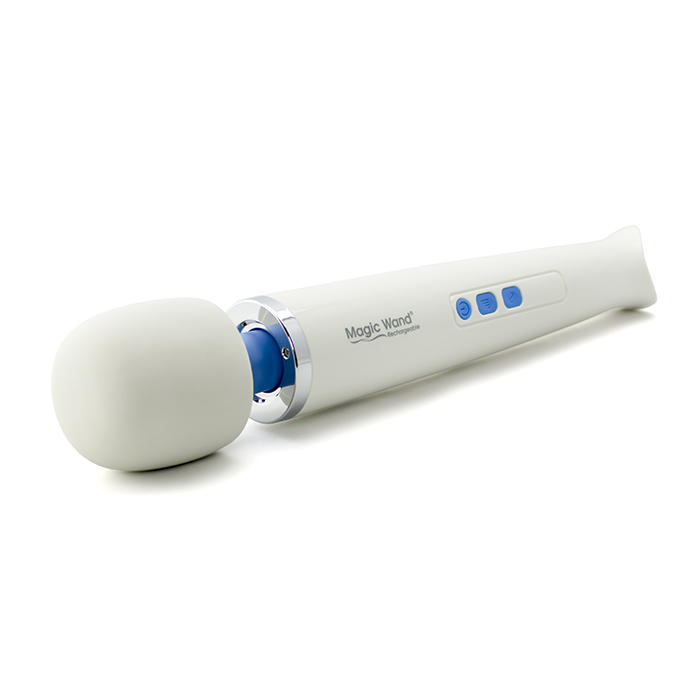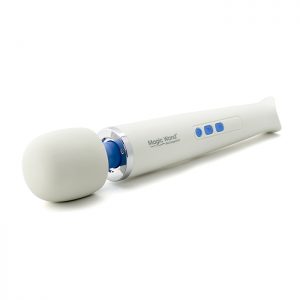 Magic Wand Rechargeable HV270
Power source: 100 – 240V electrical outlet
Four speeds: approx. 2,700 / 3,800 / 5,400 / 6,300 vibrations per minute
Weight: 1.3 lbs.
Dimensions: approx. 13" (length), 2.4" (head diameter)
Cord length: 6 foot
Plug type: US polarized
ETL listed (proof of product compliance with North American safety standards)
Backed by a one-year warranty
Being the newest addition to the Magic Wand family, the Magic Wand Rechargeable is a more advanced and higher quality version of the HV260.  You will notice from the technical details listed above that the Magic Wand Rechargeable comes with 4 speeds and 4 vibration modes compared to 2 speeds and 1 vibration mode of the HV260.  The HV270 also comes with a high quality silicone head which feels silky smooth on the skin.
Magic Wand Attachments & Accessories
Some of the most interesting and fun accessories that you can use with the Magic Wand Original or Magic Wand Rechargeable are custom made Magic Wand Attachments.  Wand Attachments are unique color, material and shaped accessories that attach on top of the  Hitachi Magic Wand.  All the attachments we sell on MagicWandMassager.com fit both the HV260 and HV270 head since both of these massagers use the same 2.5 inch diameter bulb/head.  Let us provide some examples of the different attachments made for men and women:
Magic Wand Male Attachments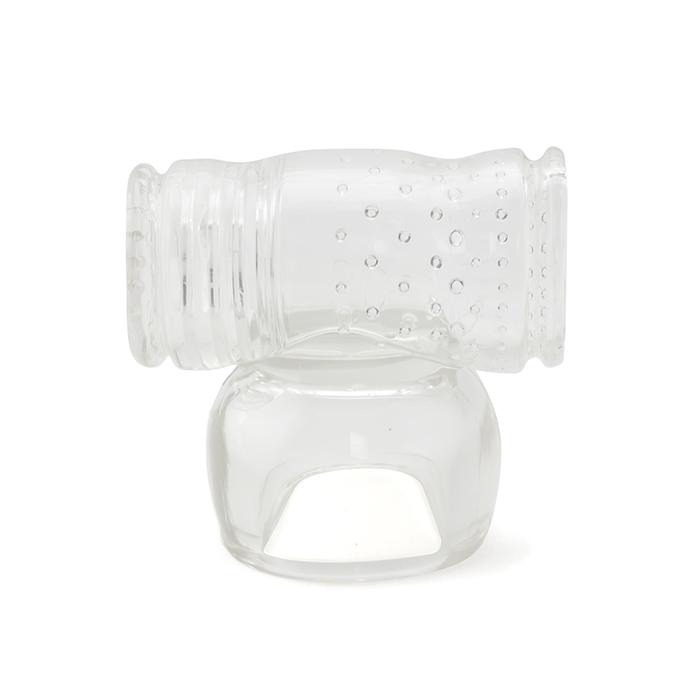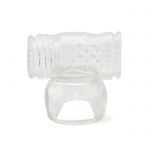 The Hummingbird attachment for the Magic Wand Original provides the ultimate sensation for men who want to use the magic wand for oral stimulation pleasure!  The Hummingbird slides over the penis and allows amazing sensations as you slide it up and down.  You will want to use water based lubricant with this attachment.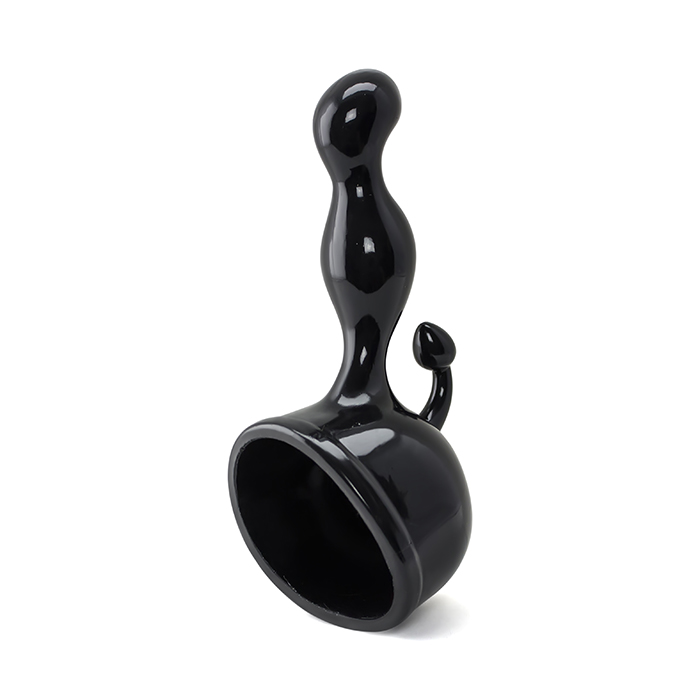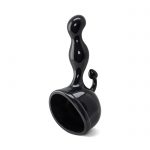 The P-Spot attachment sends sensations through the male body while providing prostate stimulation. The angled tip of this attachment applies pressure to the prostate, while the external simulator teases your perineum leading to phenomenal pleasures.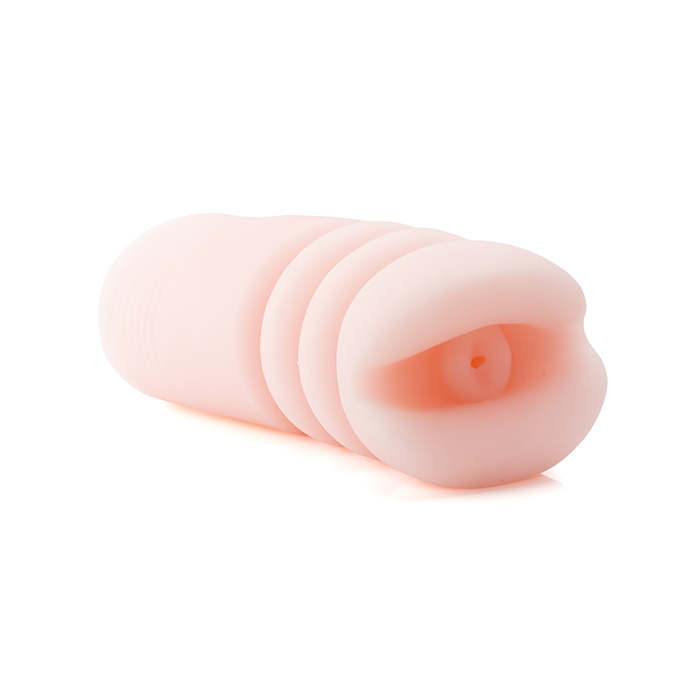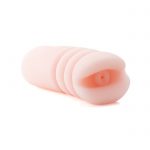 The M-Gasm attachment replicates a human vagina and attaches to the Magic Wand Original to ensure your senses are heightened to bliss! It is highly recommend that a water-based lubricant be applied prior to use of this attachment. This attachment is safe on skin and is ready for use, with or without the Magic Wand.  It's high quality TPR design will allow this attachment to be used over and over for many times.
Magic Wand Female Attachments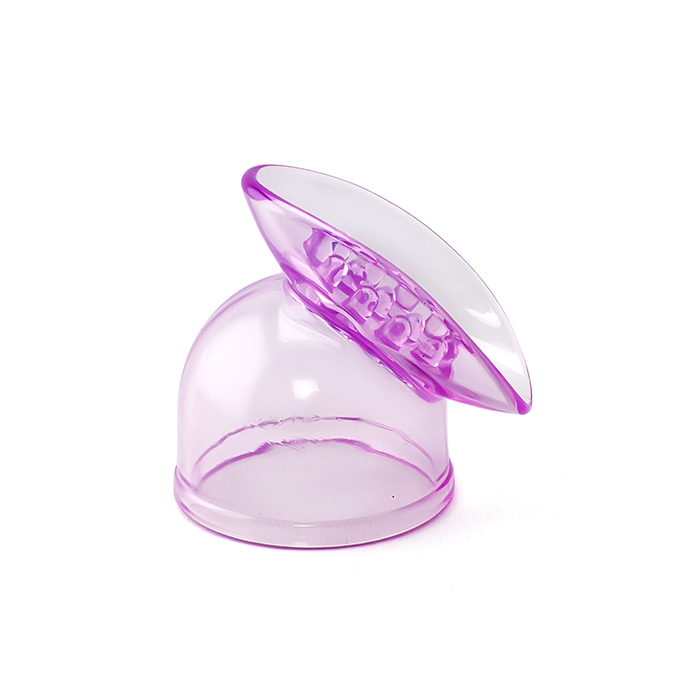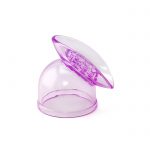 The gentle nubs of the Lilly Pod will massage every intimate area of your body and quickly bring the pleasure you have been looking for.  Made of high quality TPE, the Lilly Pod provides the suction feel women will crave for hours.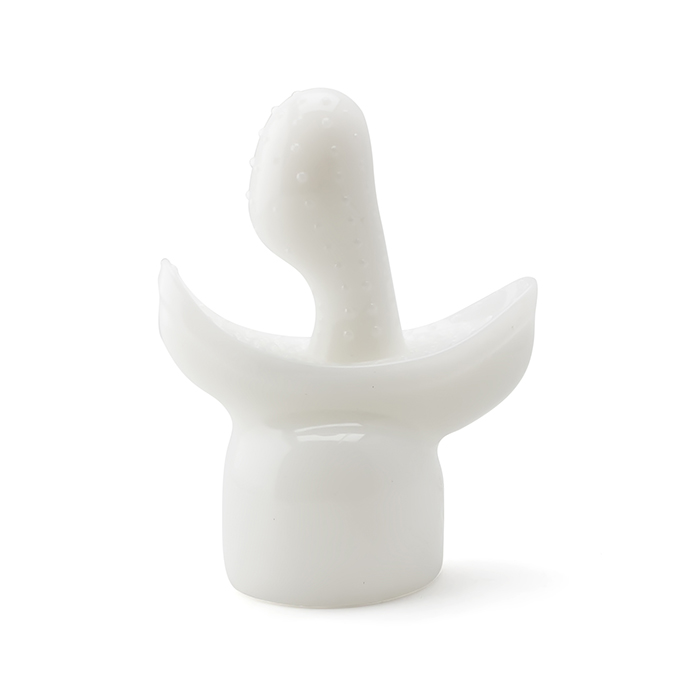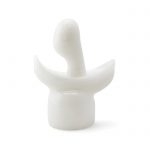 Get your very own G-Tip Magic Wand Massager attachment which brings you a powerful, nubbed attachment which will stimulate your g-spot and drive your pleasure sensations crazy!  With this attachment, you will enjoy the intense vibrations from the massager while stimulating your intimate areas.  Made of high quality TPR/PVC.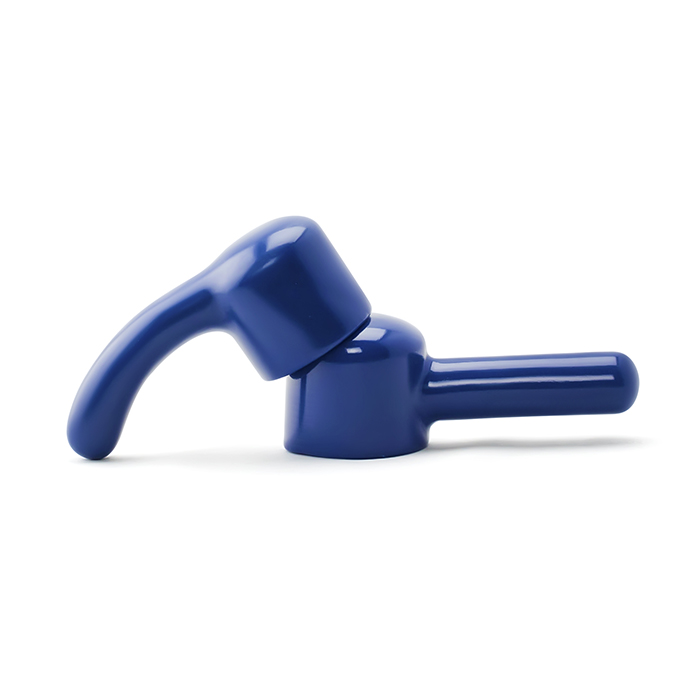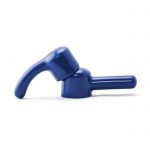 Blue Magic Wand Attachments include two of the best selling attachments that are both fun and affordable.  The Blue Magic attachment bundle consists of both curved blue and straight blue attachments.  Made of food grade quality TPR & PVC, this best selling wand accessory package is a giant hit for ladies who want to experience internal penetrating sensations from their Hitachi Magic Wand.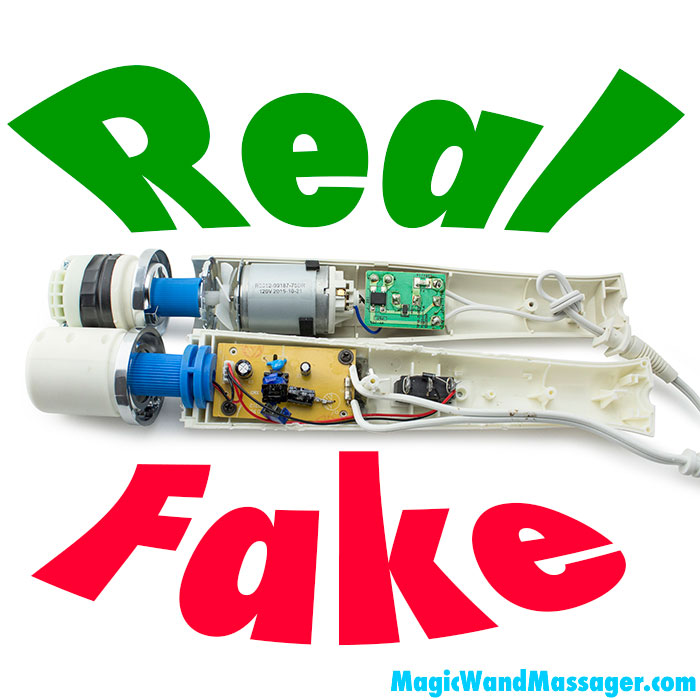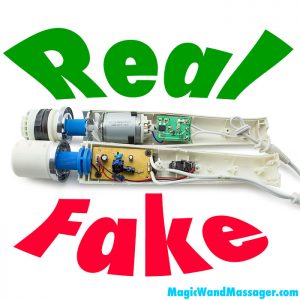 Where is the Authentic Hitachi Magic Wand Sold?
There are a number of sales channels that sell the Magic Wand.  Unfortunately, there has been trouble in the past with replica massagers being sold on different websites which are not authorized to sell the real Magic Wand.  Obtaining a real Hitachi Magic Wand can be a little more challenging than one would want to deal with.  There are price sensitive websites that list the Magic Wand for half the price of what authorized distributors are allowed to sell the Magic Wand for.  Unfortunately, this has created an environment for customers who want to get the best deal on a Magic Wand to try out the cheaper versions and quickly realize that the massager they bought for half price is a faulty, dangerous replica of the authentic magic wand.
MagicWandMassager.com sells the authentic Magic Wand Original and Magic Wand Rechargeable massagers with guaranteed authenticity and a full 1 year manufacturers warranty.  Take a look at some of our custom created bundled Magic Wand packages and enjoy FREE priority shipping on any order over $69.  Please let us know if you have any questions by contacting us 24/7 here.